There probably isn't any difference in the quality. Ring-spun has a slightly higher edge to soft spun. Ring-spun will not pill or get fuzzy. Not as soft to the touch but the fibers don't lift up after washing.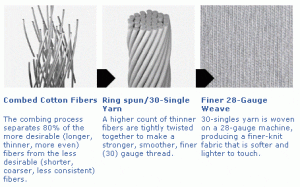 The soft spun is probably produced using a more modern technology than a spinning wheel (which is used to produced ring spun cotton). But it may be worth getting a sample of each to compare them.
More in Depth Explanation:
Regular cotton is made from soft vegetable fiber, obtained from the seedpod of the cotton plant, that is made into strands of fiber. These strands of cotton fiber are twisted together to make yarn that is then woven together to make a section of material. This is the type of cotton you would normally get when you see a piece of apparel that says something like 100% cotton or 60% cotton / 40% polyester.
A slightly different process is used to create Ring-spun cotton. You start with the same cotton fiber strands. But in the Ring-spun process the yarn is made by continuously twisting and thinning the strands making a very fine rope of cotton fibers. The twisting makes the short hairs of cotton stand out, resulting in a stronger yarn with a significantly softer hand.
The number of times you twist the fiber determines how soft it is. In many cases you will see something described as 30 Singles Ring-spun. This a term used to indicate the diameter of a yarn. The smaller the number, the thicker the yarn. The higher the number the thinner the yarn and the softer because it has been twisted more times.
Ring-spun vs. Regular Cotton: Now the interesting thing about this is that if you took a certain amount of cotton fiber and created the basic cotton material, that we talked about at the beginning of this, and then took that same amount of cotton fiber and created it under the Ring-spun process, because of the twisting and thinning the Ring-spun cotton would be a lighter weight than the regular cotton. Therefore, even though a 6.1-oz 100% (basic) cotton t-shirt may be heavier than a 4.3-oz 100% Ring-spun cotton t-shirt, the lighter weight Ring-spun t-shirt may very well be more durable (and definitely a lot softer) than the basic cotton t-shirt.
Some of our most popular sellers are listed below:
Gildan 64000
Bella + Canvas 3001
Anvil 980
Gildan 64000
Bella + Canvas 3001
Anvil 980
---
Contact us for questions or to place an order!