Dye sublimation applies heat and pressure so that the ink is transferred directly to the fiber of the material at a molecular level, ensuring your designs, numbers, and logo won't crack, scratch, fade or wear off. With dye sublimation you will get the best long-use option when it comes to keeping your team colors and logos vibrant from game to cleaning and back again!
The artwork is printed on coated heat-resistant transfer paper as a reverse image of the final design much like the application of a temporary tattoo.
The image is printed as a mirror image onto specialized paper, then heat pressed into the fabric so the inks when heated on high heat settings will transition into a gas and fuse with the fibers in the fabric.
This step is very important and some printers don't take the time, but we have to "cure" the fabric after it's printed. This ensures the quality of the ink and withstanding fading over time.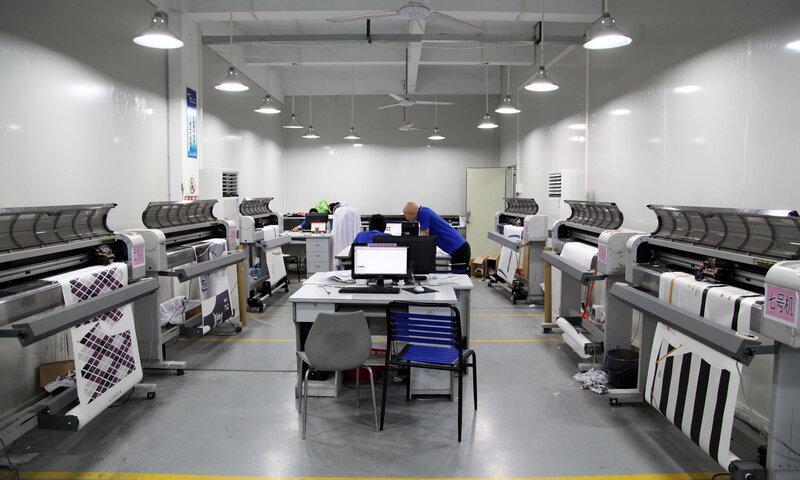 Advantages of dye-sublimation over other methods of textile printing:
Images are permanent and do not peel or fade
The best solution for complex patterns, gradients and detailed artwork
Colors can be extraordinarily brilliant due to the bonding of the dye to the transparent fibers of the synthetic fabric
The image can be printed all over the entire item, with no difficulty in printing all the way to the edges
Cut and sew sublimation is a high-fashion garment printing process, yielding beautiful full-color designs — and the only limitation is your budget.
Cut and sew sublimation printing can be used with our patterns, or yours
Small runs and scalability